Whether it's a short layover with time to only get a quick bite or long lines to sit at a bar, eating at the airport can be challenging for even the most well-traveled individual. The available options narrow considerably when it comes to finding a place to eat with vegan-friendly menu items. Fortunately, as the world becomes more environmentally conscious, more and more restaurants across the globe are offering vegan eats. This change includes locations at some of the world's busiest airports. We are excited to share some of the best vegan eats at the airport.
The best part about these vegan eats at the airport is that they vary from quick-grab items to full dine-in restaurants. We can't promise you that the airline you are traveling with will have a vegan snack option on board. However, we know that by planning, you can ensure a good meal when you land. The downside is that these restaurant options are only available in airport terminals. This fact means you have to have an airline ticket to visit them! Perhaps it is time to plan your next trip? Just be sure to book your flight to, from, or through one of these five airports!
Our list of airlines featuring vegan eats includes three of the busiest international airports: Dubai International Airport, Singapore Changi Airport, and Amsterdam Schiphol Airport. We also include two of the heaviest traveled airports in the United States: Los Angeles Airport (LAX) and Denver International Airport (DEN). We have included the Vegan Travel Agent price ranges for each location:
"Backpacker's Budget": cheap eats for the thriftiest traveler.
"I've only got one week PTO" Budget: budget-friendly eats that won't break that bank.
"Alfred, grab my coat" Budget: when you want to treat yourself.
"I've only got one week of PTO" Budget
First, let's look at Dubai International Airport, the fastest-growing airport hub in the world. Did you know Dubai International is home to the largest DXB Duty-free store worldwide? Additionally, the airport has its internal hotel. Giraffe, a dine-in restaurant, is in two locations at Dubai International. The first location is in Concourse D on the Upper Lever, while the second is in Concourse A, near Gate A19. A British-based restaurant that has gone international, Giraffe is focused on family-friendly. They have various menu options ranging from classic comfort foods to bold new recipes featuring their unique "Giraffe" twist.
Whether you just landed from an all-night trip or are getting a vegan breakfast before a morning flight, Giraffe has excellent vegan breakfast options to satisfy a hungry appetite. We think the Veggie Sausage Roll that comes in a soft roll with a side of hashbrowns sounds like a great end or start to any trip! Their main menu for lunch or dinner has many vegan options! The dishes are from multiple regions of the world, and each is sure to be full of flavor. The vegan Korean BBQ Chicken made with banana blossoms sounds delicious.
If you have a sweet tooth, Giraffe has multiple vegan deserts! Giraffe's classic Chocolate Fudge Cake features a sticky and rich chocolate fudge cake with vegan vanilla ice cream and a drizzle of chocolate sauce! Giraffe also has a total wine, beer, and cocktail menu that is sure to have a beverage that pairs well with whatever menu item you choose.
Bonus: If you're traveling to Dubai, be sure to check out our post 9 of the Best Vegan Places in Dubai!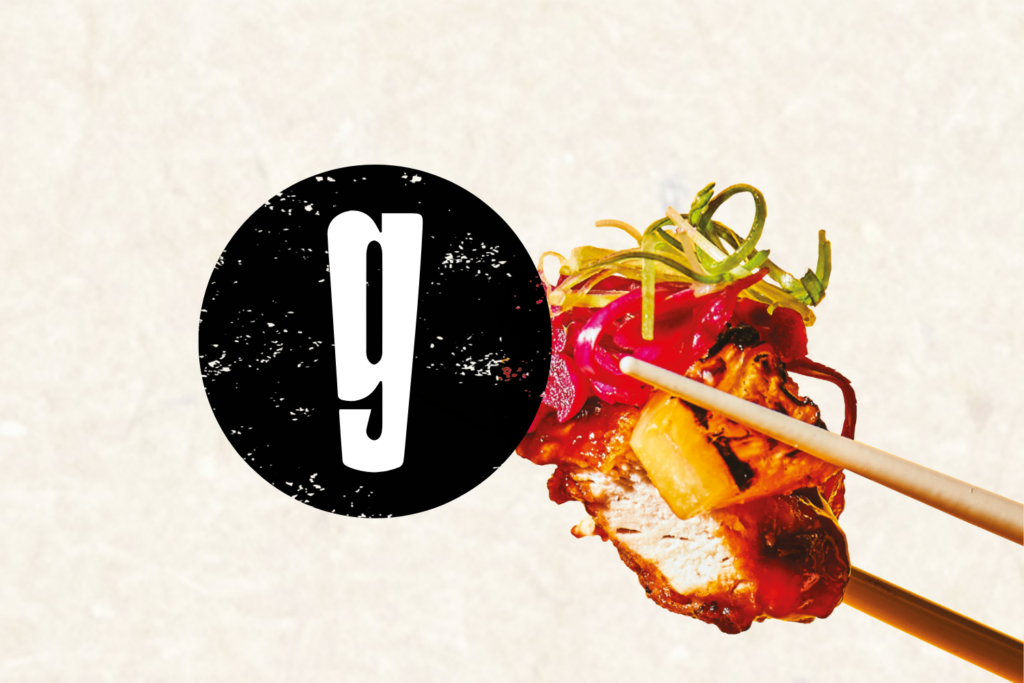 Singapore Changi Airport: stuff'd
"Backpacker's Budget"
Next up is Singapore's Changi Airport, which has been named the best airport in the world multiple times! The airport has many unique spaces that almost make it a tourist destination on its own. Over 65 million travelers pass through its terminals every year. Changi Airport is the only one in the world to have not only a cactus garden and sunflower garden, but it hosts a butterfly garden as well! Kids will never be bored on a layover at this airport. There are multiple playgrounds throughout, and one even features a 12-meter tall slide- supposedly the tallest indoor playground slide in the world.
Changi Airport features a food court that connects all three of its terminal. stuff'd is located in the B2 section of Jewel. At stuff'd, vegan eats at the airport are conveniently takeaway and made to order. This convenience makes it a great pick whether you are grabbing something on your way to a connecting flight or need a bite while exploring all the airport has to offer. A unique mashup of Turkish and Mexican cuisine, stuff'd features food only made from natural ingredients with no artificial additives! They provide generous portions of classic items like burritos, kebabs, and salads. Because they make everything to order, you have complete control over what comes in your meal!
Bonus: If Singapore is your final destination you have to check out 9 of the Best Vegan Places in Singapore!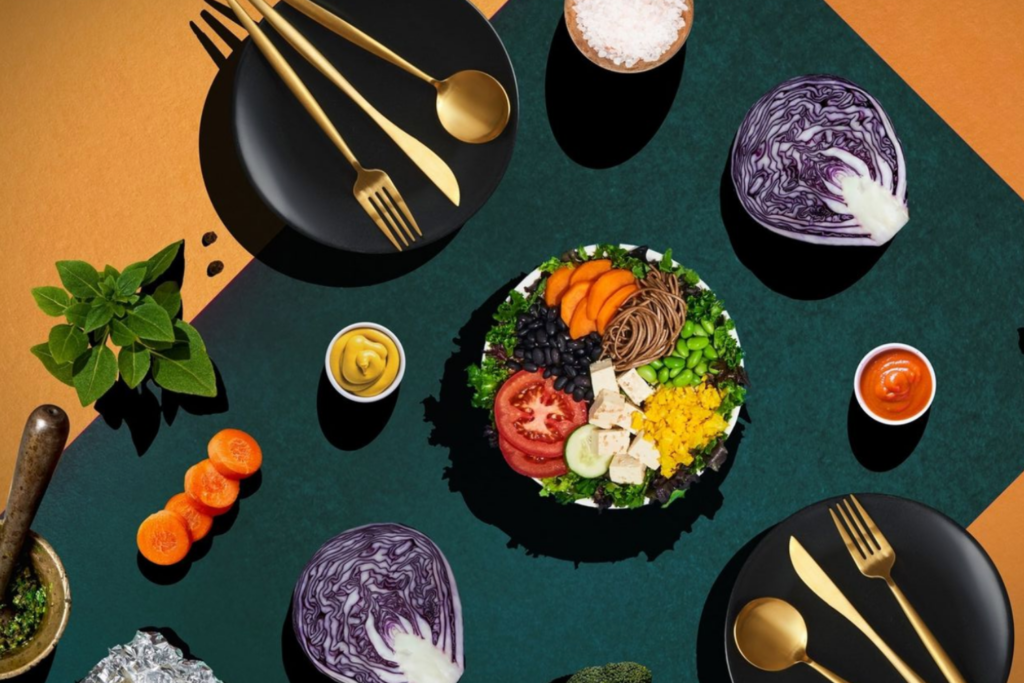 "Backpacker's Budget"
Thirdly, let's look at Amsterdam Schiphol Airport. It is one of the lowest-laying airports in the world; a lake was drained to create land for the airport to reside on! Schiphol Airport started its service in 1920 with a flight to London. Nowadays, Schiphol is known as a "mainport." Not only do they have six runways for air transportation, but they also offer cars and train travel. A high-speed train runs to Paris, France, nine times a day! (If you plan to travel Europe out of Schiphol, read our 7 Best Destinations for Vegans Travel in Europe.) While Amsterdam was known for its infamous Red Light District, it is now a popular travel destination for food, art, and history.
When traveling with a special diet, it can be hard to find a place to eat, but it is more frustrating when the one option you can eat is not open! Health Food Wall at Schiphol Airport ensures that no vegan traveler is ever hungry. Open 24/7; this innovative vending technology delivers healthy fresh food to you in moments. The best part is the menu of six meal options changes seasonally, and a qualified dietician creates it each time! Because of the rotating menu, we can't give you a suggestion to try. However, some previous menu items include curry, pasta, chocolate fudge brownie, banana bread, smoothie bowl, fresh juice, overnight oats, or a bliss ball. Health Food Wall claims to have something fresh for everyone! When you try their vegan eats at the airport, comment below what you tried.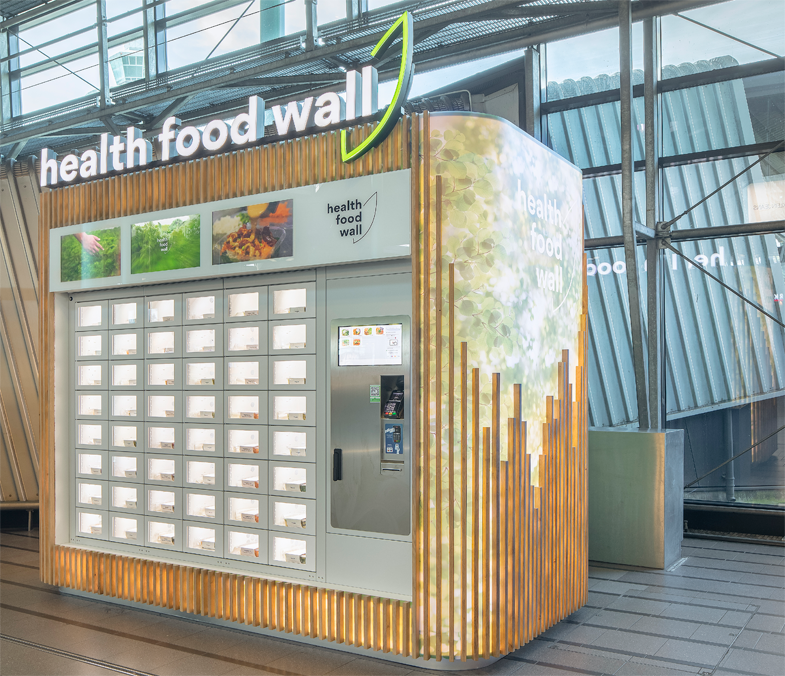 Los Angeles International Airport (LAX): Real Food Daily
"I've only got one week of PTO" Budget
Our fourth location is Los Angeles International Airport, the fifth busiest airport in the world and the second most active in the United States. Known as "The Gateway to Hollywood Town", LAX is also known for loving art! The airport features 11 different gallery exhibitions throughout its terminals. LAX has 85 eateries available to make any foodie full and happy! Additionally, over 80 shopping choices are available to fill your time at the airport. With all the eating and shopping options, plus nine terminals, LAX is the same size as eight midsize airports!
Real Food Daily is the only fully vegan eats at the LAX airport- even with 84 other options available! The restaurant is in Terminal 4. Real Food Daily prides itself on offering quality, authentic, creative, and nutritionally balanced menu items that are organic and plant-based. With comfort foods like Baked Mac and Cheese, Buffalo Tater Tots, and The BTLA (tempeh bacon, lettuce, tomato, mayo, avocado), you are sure to feel refreshed from your travels and ready to embark on your next adventure after your meal!
Bonus: While they serve breakfast daily, they do a fully vegan brunch on Saturdays and Sundays from 10-4!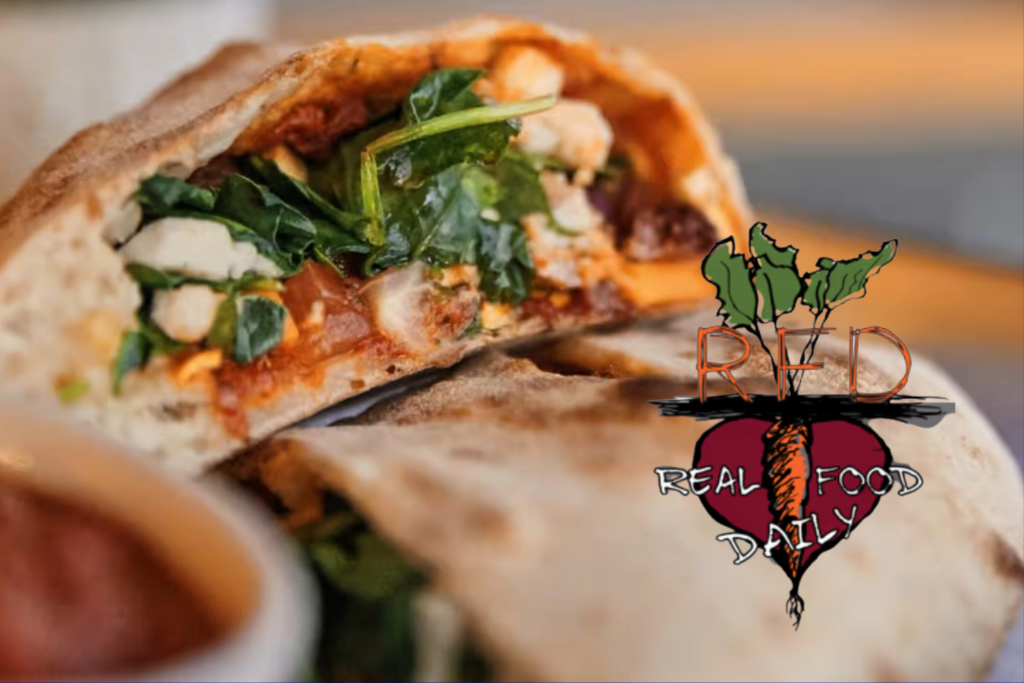 Denver International Airport: Root Down
"I've only got one week of PTO" Budget
Lastly, Denver International Airport is the largest airport in North America by landmass- over 53 square miles of land or more than 33,000 acres! Its size, combined with the fact it was $2 billion over budget at the time of its opening, makes the airport a top location for conspiracy theories to take hold. Denver International Airport contains artwork with doomsday scenes, and its rearing blue horse statue (complete with glowing red eyes) notoriously killed its sculptor by falling on him. Tales of the Illuminati, government tunnels, and more keep the imagination turning as you wait to take flight at this popular airport!
The dine-in restaurant Root Down is at the C gates. Root Down is an award-winning, nationally acclaimed restaurant featuring seasonal food inspired by global flavors. Their locally sourced menu has everything from soup and sandwiches to dinner entrees and dessert. It's not hard to find tasty vegan eats on the Root Down menu at the airport! Perhaps you just want a big burger after your long flight; look no further than their Vegan Veggie Burger with superfood slaw, jalapeño jam, avocado mash, and sweet potato fries! The Carrot Hummus comes with delicious toppings and sides like cucumber, jicama, dates, sunflowers seeds, and chili oil!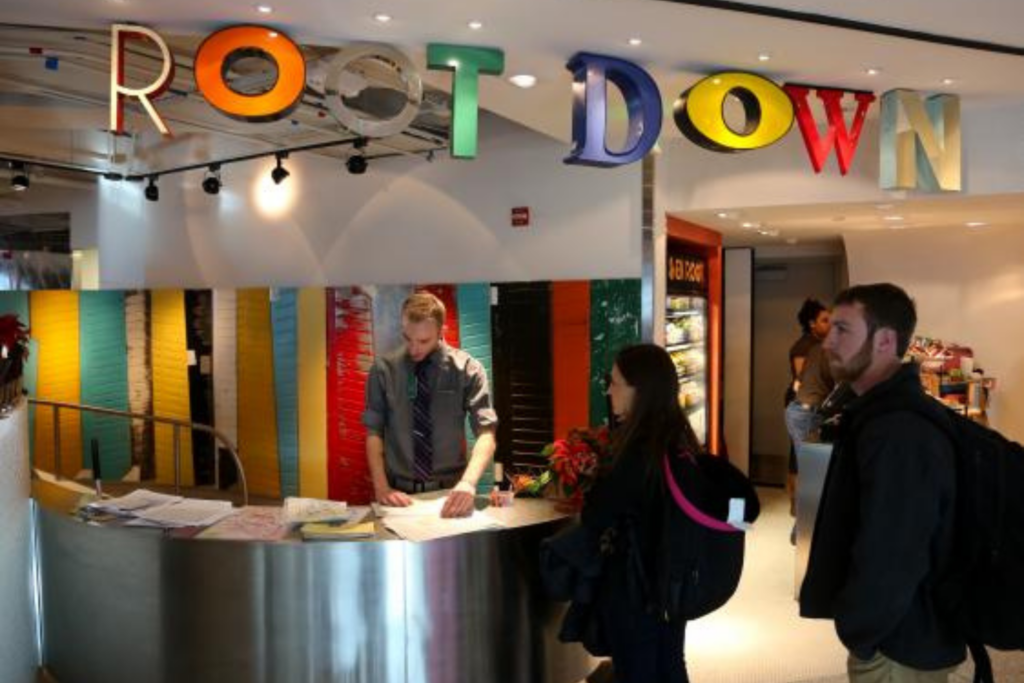 Conclusion: You can travel anywhere and be vegan!
In conclusion, we can see that it's easy to find vegan eats at the airport! With some research and prep, you will never be without a yummy meal while traveling. Let us know if you have tried any of these restaurants or if we missed your favorite.