For many years, vegans could not enjoy visiting an ice cream shop. However, this is no longer true with a worldwide turn towards plant-friendly and vegan diets! Now vegans can enjoy a refreshing ice cream, whether it's in a cone or a bowl. We are sharing the top nine vegan ice cream shops in the United States that you have to visit! If you are local, make one of these vegan ice cream shops your new weekly treat, and if you are visiting, prepare to want to return time and time again.
Walking into an ice cream shop where you can eat everything is definitely a treat. Every flavor at KindKreme is gourmet, raw, vegan, and organic! Their unique frozen non-dairy treats are handcrafted daily in small batches in their local kitchen. They feature such coconut-based flavors as Honey Chai and Pina Colada. They also have almond or cashew milk-based flavors like Maple Pecan and Chocolate Salted Caramel. In addition to vegan ice cream, KindKreme also serves shakes, fresh juices, cold-pressed coffees, daily soups and sandwiches, and much more!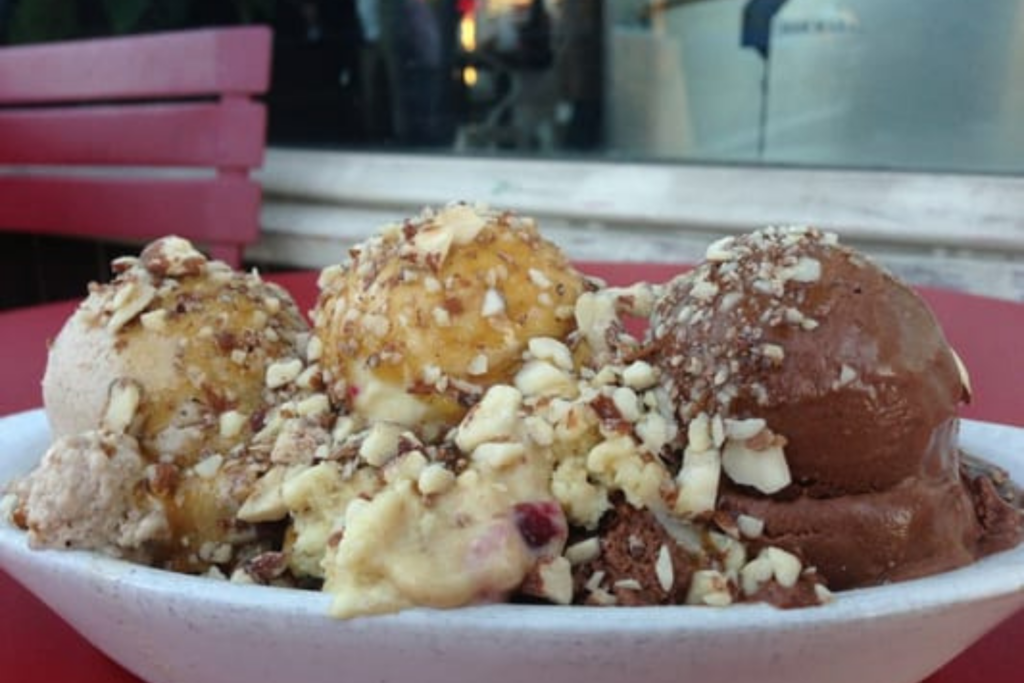 The vegan ice cream at Yoga-Urt is "made from scratch, starting with hand squeezed almond milk with all organic and dairy-free ingredients and added probiotics." As a bonus, they are eco-friendly with all compostable paper goods! They offer over 30 nut-based handcrafted rotating flavors of organic, vegan, gluten-free, soy-free soft serve. Their flavors include Chocolate Bliss, Salted Caramel Zen, and Peanut Butter Prana. Not only are their ice cream flavors vegan, but they also have a toppings bar with mostly organic and all vegan options. Also on the menu are organic smoothies, kombucha floats, banana splits, shakes, pints to go, and more.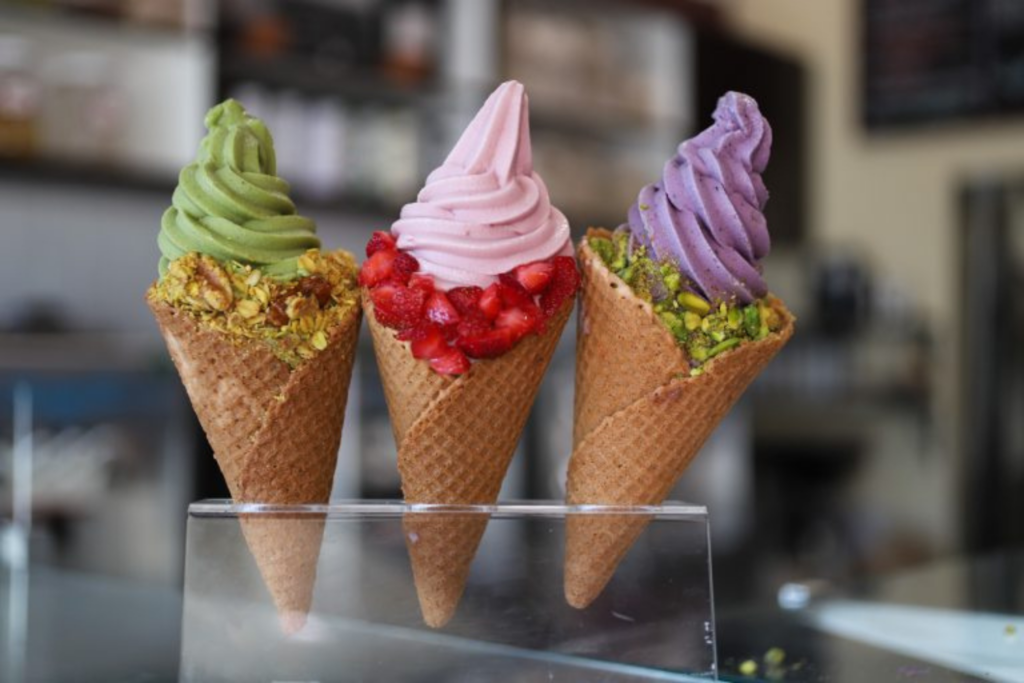 While not everything on the menu at Milk and Honey is vegan, they make most of their most popular flavors in a vegan form. Additionally, they do have all kinds of other options tailored to allergies and sensitivities of all kinds. One of their top vegan ice cream flavors is Matcharoon. It is a toasted coconut ice cream with house-made fudge sauce and roasted salted almonds. They also serve a unique option called Mumbai Curry. It is vegan Mumbai spice ice cream with peanut butter and Michigan maple syrup. All of their products are free from genetic modifications, harmful chemical pesticides, hormones, and antibiotics. At Milk & Honey, you'll get only the freshest products that are free of artificial preservatives and food dyes.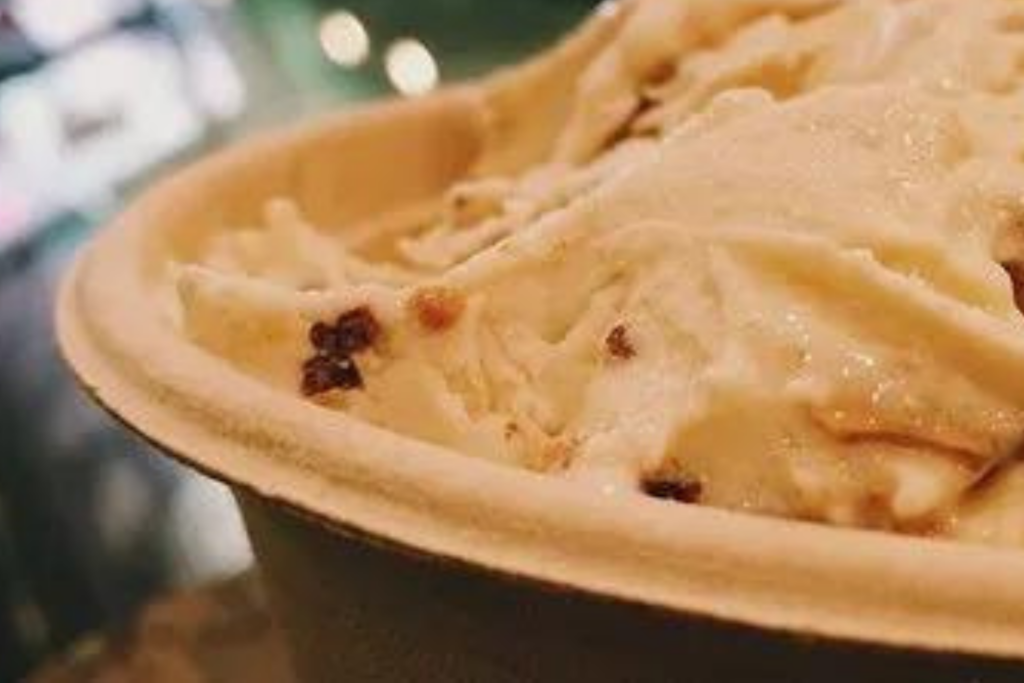 With locations in New York, California, New Jersey, Pennsylvania, Texas, Colorado, and Connecticut, Van Leeuwen is the most diverse placement-wise on our list! Not only does Van Leeuwen serve scoops and pints, but they also serve vegan ice cream bars. Their motto is "To make good ice cream that makes you feel good. Because a life without anything good is bad." You can certainly taste the good in flavors like Cookies & Cream Caramel Swirl and Oat Milk Brown Sugar Chunk!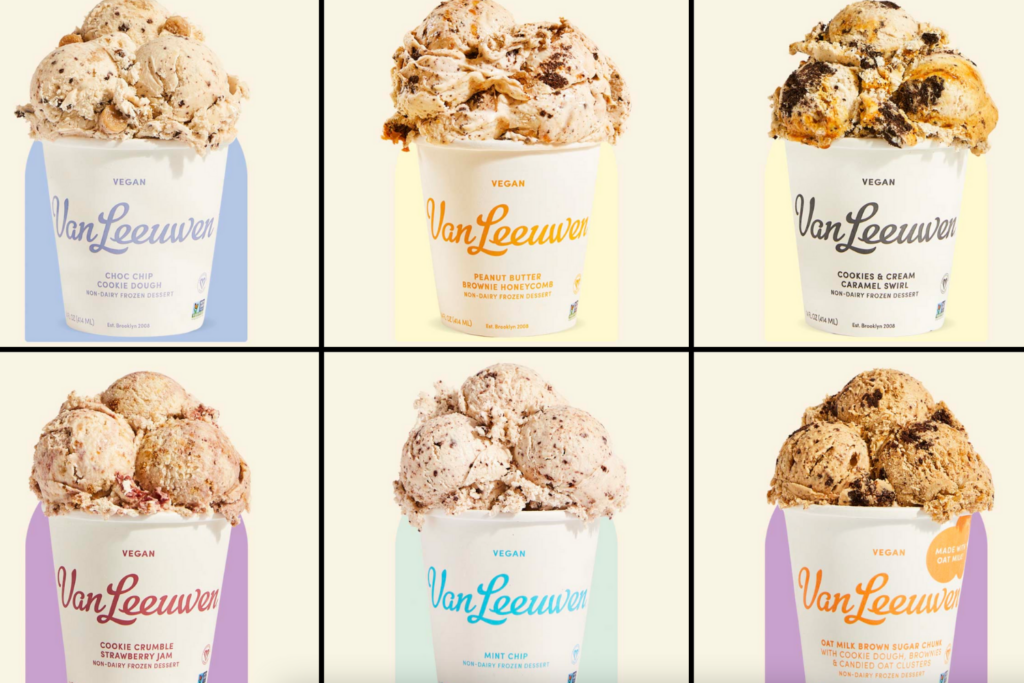 Texans can get their vegan ice cream fix at multiple Amy's Ice cream locations in the state. While not all of their flavors are vegan, they have a well-marked list of classic and favorite flavors that are made with oat and coconut bases. They are sweetened with cane sugar and tapioca syrup and contain pea protein for a healthy kick! You don't want to miss their Ripple Dreamsicle or Ripple Belgium chocolate flavors!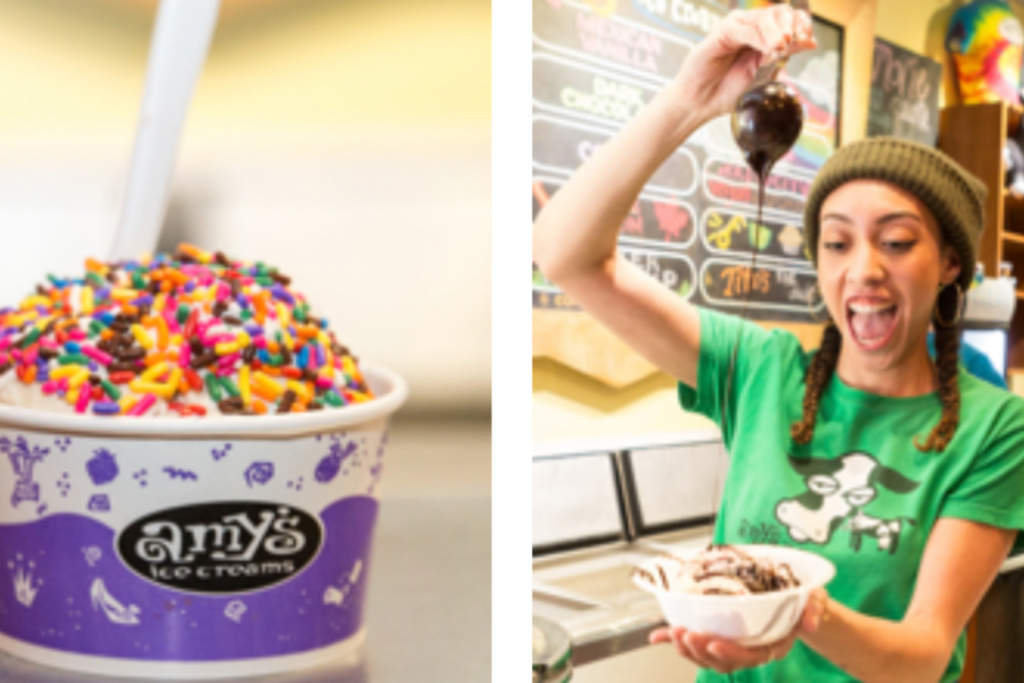 Technically not ice cream, the vegan flavors at Gelato Boy still deserve a place on this list because they are so good! Their gelato is made with better, healthier ingredients. It naturally has half the fat compared to ice cream. With a rotating menu, it can be beneficial to call in advance to know what flavors they have stocked that day. One of our favorites is the Lemoncello Lavender! They also have a solid deep, dark chocolate option that you don't want to miss.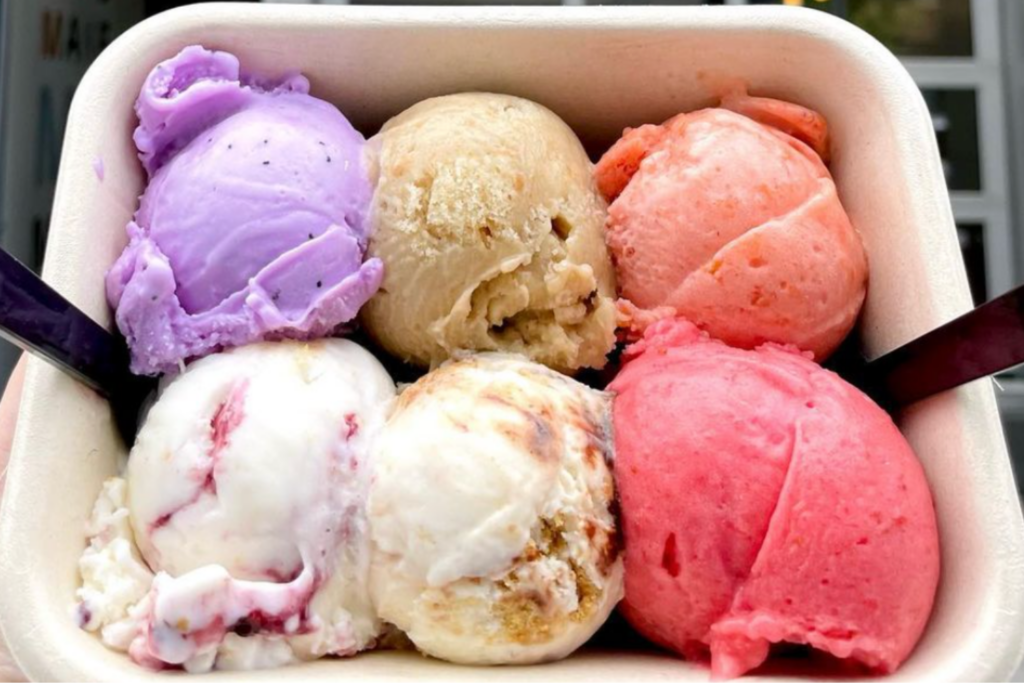 16 Handles has multiple locations throughout New Jersey and New York, plus one in Connecticut! They carry 23 different vegan ice cream options in-house, meaning you will surely find one you will like. 16 Handles has recently partnered with Oatly to create vegan bases. They have traditional ice cream flavors, fun plays on classics, and a ton of fruity sorbets to cool you down in no time. They also have a Dear Evan Hansen special flavor in partnership with the Broadway Musical. It is a limited release blue raspberry sorbet!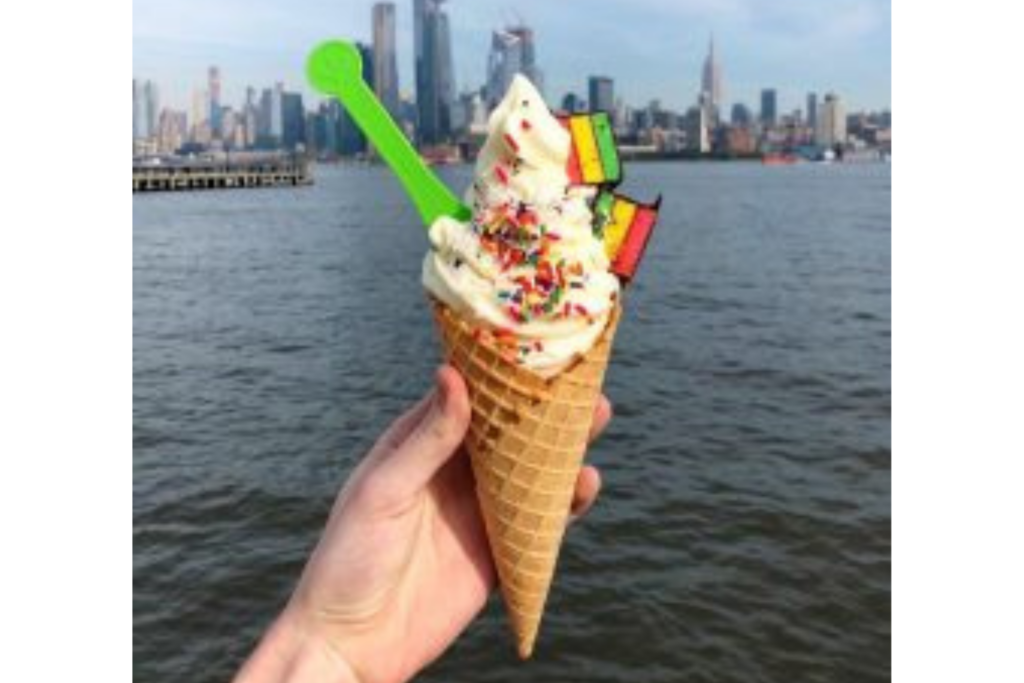 While most ice cream shops carry pints, Cream is known for it's ice cream cookie sandwiches! Whether you choose one cookie or two different flavors, Cream is going to leave you wanting to visit again and again. They do sell out quickly so be sure to call the location you are going to visit in advance to know which vegan options they have in stock. Cream also carries milkshakes and sundaes making it perfect for all the ice cream lovers in your party.
This ice cream shop is both woman and minority owned! The majority of the flavours do contain non-vegan ingredians, however the quality and taste of the vegan options make a trip to Malai worth it. You can get flavours like Royal Cinnamon with Black Salt Caramel, Spiced Peanut Crunch, and Pineapple Pink Peppercorn in both scoops and pints. If you find your new favorite flavor, you can even get pints shipped nationwide!
We hope one of these US-based vegan ice cream stops will fulfill all your summer ice cream dreams! If you aren't currently looking to travel, many shops ship throughout the continental US! If you are looking for something equally as sweet for breakfast, be sure to read our article, The Seven Best Vegan Bakeries in NYC.