It is no doubt that North America is the most visited place for vegans in the world. Well, the West Coast has many great cities with top attractions. In addition, the cities are perfect for vegans as there are limitless menu lists to enjoy to your satisfaction. Many people are becoming vegans in North America.
There are about 10 million Americans that have become vegans and now enjoy plant-based meals. Although veganism is growing fast, it is not generally accepted in all places of North America. Here are the best places you can visit as a vegan if you travel to North America.
You can check out affordable options in other places with lovely quality, accessibility, and diversity of vegan foods. Also, here are the top places you can visit as a vegan in North America. Let's go.
1. Portland, Oregon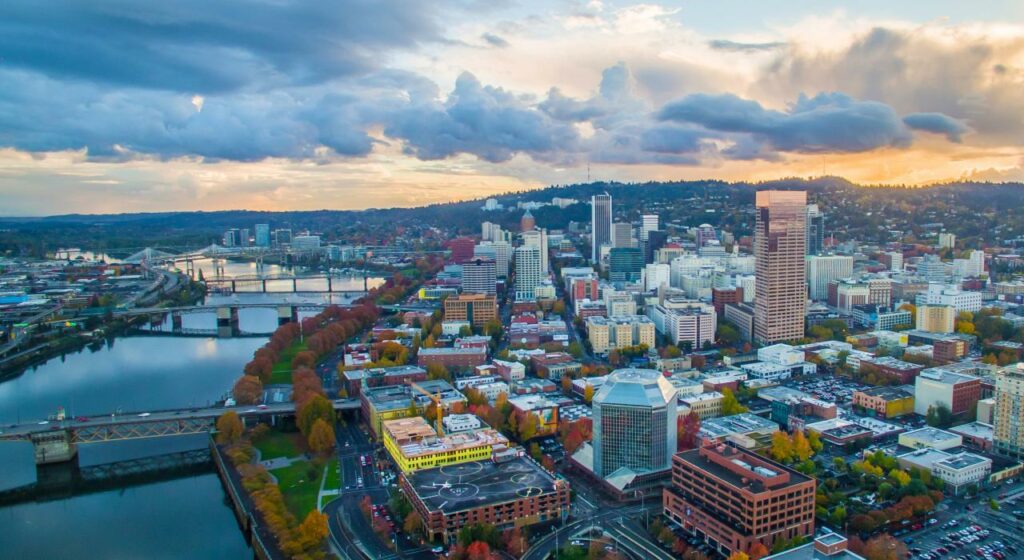 Portland is a fascinating place for anyone that is on a trip. It is the most populous and largest city in Oregon. The city is known to be the seat of Oregon Wine County, Waterfalls, Volcanos, and adorable Gardens.
To mention a few, Lan Su Chinese Garden is always a lovely place for people to visit. You can begin your guided tour as you check the Garden and appreciate nature. You can check the Mount Hood Wine and Waterfalls after to marvel at the Hood River valley.
People that visit Portland also love to explore the Columbia River Gorge. The waterfall and cliff are a combination of top sight. Also, you can be closer to animals and plants if you are a nature lover. Other places to check in the city are Silver Falls, State Park, Willamette Valley, Cascade Range, Tilamook, and lots more. The list is endless. Most of these places have restaurants that are vegan-friendly too.
Are you a fan of burgers and brisket? Then, you should check Portland. There are a lot of chefs with several options of soy, tempeh, and tofu for your enjoyment. Little wonder, Portland is named the best city for food enthusiasts in the United States. There is always a large array of options to choose from.
2. Santa Fe, Mexico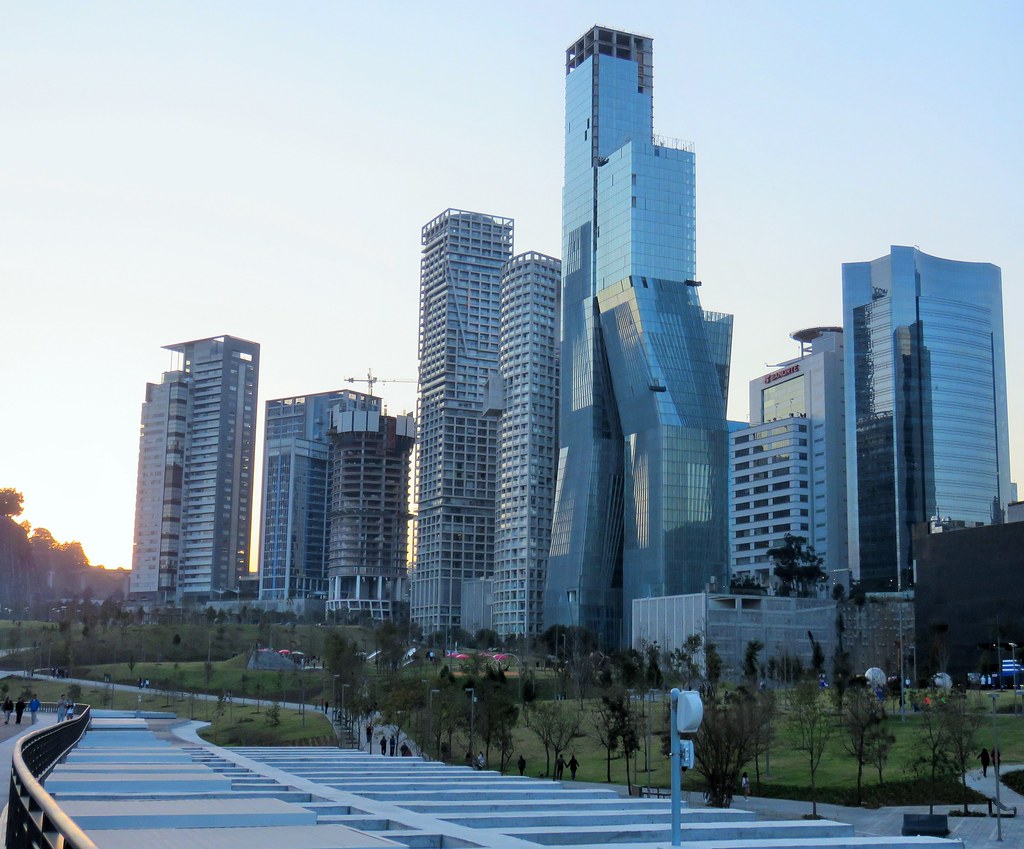 Do you know that Santa Fe is the new capital of New Mexico? The city cuts across different cultural influences like Spanish, English, American, and Mexican. Its picturesque streets and lanes would make you adore every contemporary art in the city.
The Sangre de Cristo Mountains has been the choice for winter sporting events – this has been the tradition for over 20 years. Hence, you can schedule your next visit to Santa Fe for the winter period. Canyon Road is another must-visit place as it has over a thousand galleries, studios, and workshops with traditional and contemporary art crafts.
The famous places people check are Blue Rain Gallery, Medicine Man Gallery, and Gerald Peters to examine their paintings, sculptures, pottery, and jewelry.
Other top places you can visit include the New Mexico History Museum, Santa Fe Opera House, Ski Santa Fe, Plaza, Museum of International Folk Art, Cathedral Basilica of St. Francis of Assisi, Georgia O'Keeffe Museum, Santa Fe Farmers' Market, Loretto Chapel, etc.
There are several choices of food for you to enjoy as a vegan. You can visit the famous Café Pasqual to enjoy some local Mexican delicacies. Visitors love Spiced sunflower seeds, bread, and cactus salad. You can also make special orders for meals.
3. Boulder, Colorado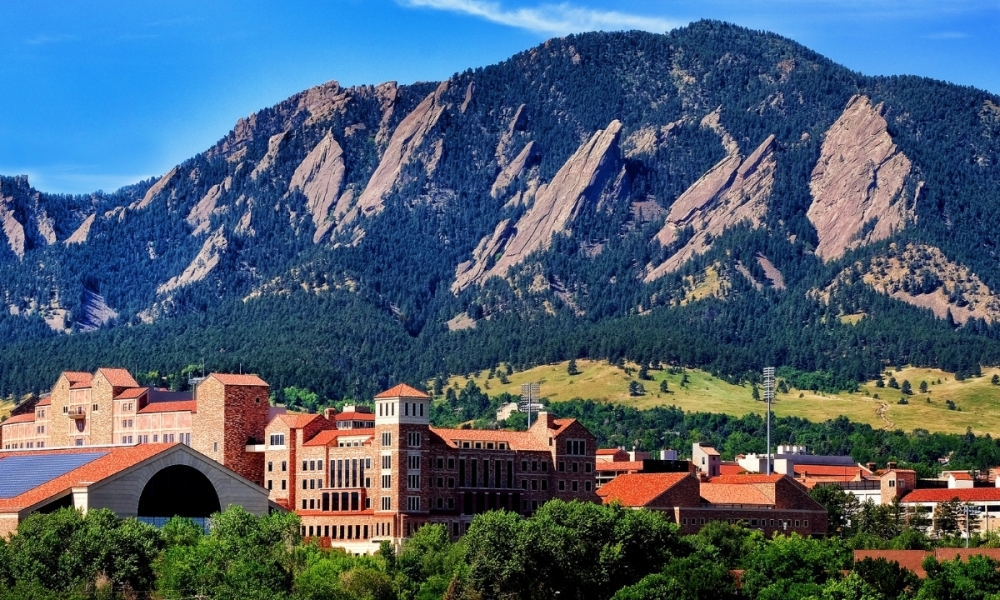 Boulder is a unique city in Colorado. It is a rocky location that is bounded by Denver on the northwest. There are different malls, hills, and mountains to explore. You can take a tour of the Pearl Street Mall to check the blocks, art galleries, shops, and restaurants. Also, you can visit the university that has many shops and vegan-friendly restaurants.
Other most visited sites in the city are Flagstaff Mountain and The Flatirons. You can look for the best spots to chill after touring through the Flatirons Vista Trail. Chautauqua Park, Eldorado Canyon State Park, Fiske Planetarium, Mount Sanitas Hiking Trail, and Boulder Museum of Contemporary Art are also lovely places you would want to check.
Boulder appears to be the home to many vegans. Several restaurants abound in Boulder as they are out to serve only healthy delicacies. If you are in Boulder, you should visit Julia's kitchen to enjoy vegan, organic, and gluten-free cuisines. You can try out the sprouted buckwheat millet and veggies pancake. Some people like to sprinkle their meals with rich Himalayan salt.
4. Burlington, Vermont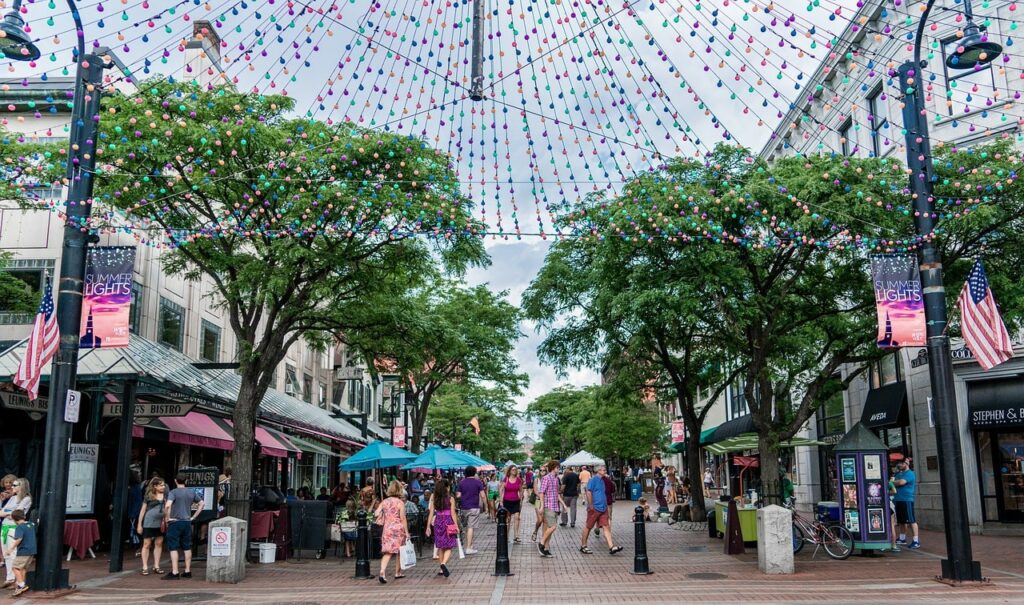 Burlington has all that may interest you. its history, entertainment, culture, and outdoors are impressive lures to visit the city. It is no doubt that it is one of the most visited places in North America.
The top places are Shelburne Museum, Church Street Marketplace, Ben & Jerry's, Burlington breweries, Waterfront, Fleming Museum of Art, and lots more. You can check Ben & Jerry's ice cream, the Skinny Pancake, American Flatbread, Church Street, Hen of the Wood, Farmhouse Tap & Grill, and Juniper to order for your best choice of vegan delicacy.
You can enjoy numerous healthy and friendly delicacies in Vermont. Burlington is the largest city in Vermont and definitely, is the home to delicious vegan dining choices. A major spot people visit is Revolution Kitchen. If you visit the restaurant, you should try out their mango salad rolls with basil, Thai massaman noodles, and jerk seitan.
5. Berkeley, California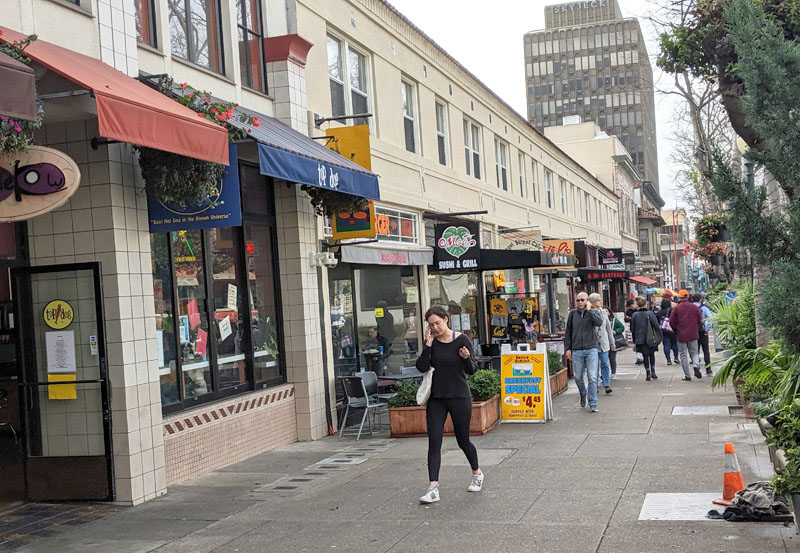 Berkeley is filled with nature, culture, beauty, and food. The options are thrilling and exciting such that you would want to add Berkeley to your bucket list. There are entertaining things to do in Berkeley.
Berkeley Marina has convenient equipment that makes your trip to California comfortable. It has a yacht club with great sight attractions. You can also check Cesar Chavez Park, Shorebird Park Nature Center, Dream Land for kids, and Aquatic Park.
Berkeley Rose Garden's beauty is second to none. You should go to the garden in May because that is the time the garden blooms. The park is close to Codornices Park. Also, UC Botanical garden is an impressive location for those who adore nature.
Lawrence Hall of Science, Fairy Post Office, Adventure Playground, Tilden Regional Park, and Berkeley Art Museum, and Pacific Film Archive are a few of the many options you can visit.
Checking out Berkeley is not complete without a visit to Chez Panisse. This restaurant was famously the origin of California meals. It has grown to become one of the best places for vegan delicacies in the country. You can choose to explore its vegan main menu or extraordinary aside meals. You would enjoy every meal.
6. Ithaca, New York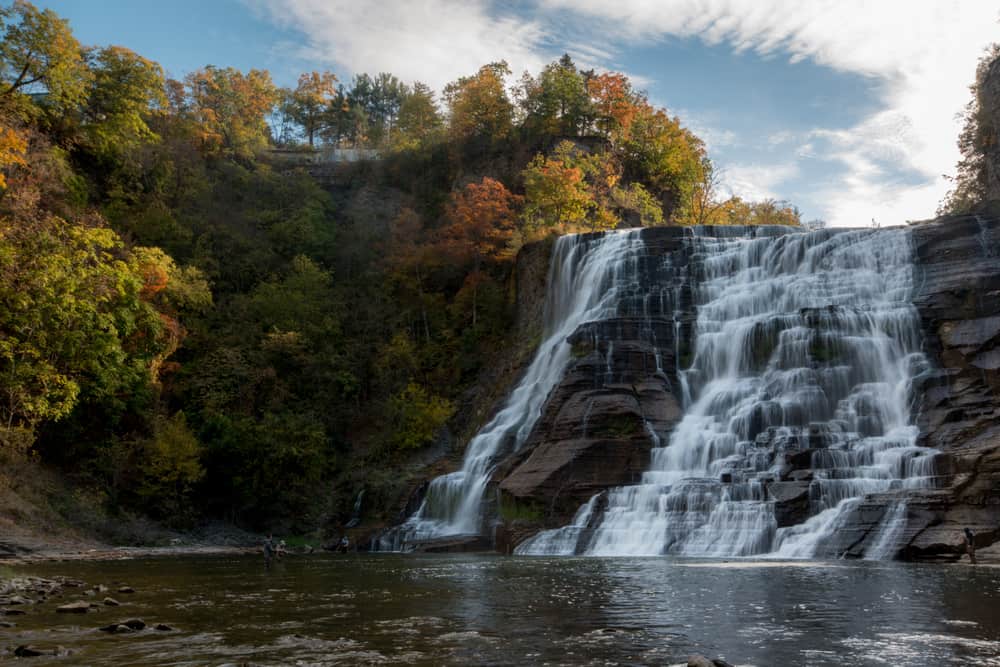 Ithaca is one of the beautiful scenes of New York. It has spectacular buildings and top-notch recreational activities. Many visitors love climbing and hiking.
You can check the Cornell Botanic Gardens and Cascadilla Falls at Cornell University. Its other side attractions include the Johnson Museum of Art, Treman State Parks, Buttermilk Falls, and Creek Vineyard.
Do you know that there are over 100 waterfalls in and around Ithaca? You would see falls that are as high as 100 feet. Some fall even have hiking trails which couples love to visit.
No visit to New York is complete without an experience to Moosewood. Consistently, it has been the leader of other restaurants for vegetarians by picking several awards as far back as 1973. You can create your favorite menu list with their meatless chefs and be rest assured of great quality.
7. Philadelphia, Pennsylvania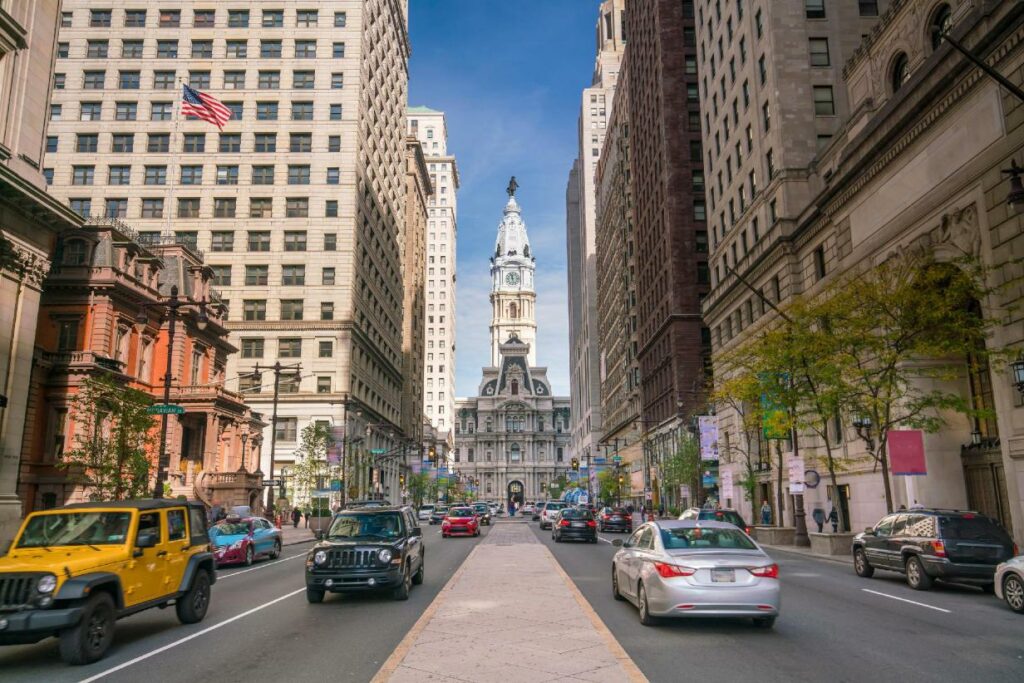 Philadelphia is known as a World Heritage City in the United States. It is the biggest city in Pennsylvania and has great historical landmarks. People love to visit the city to explore its history, culture, arts.
You can know more about America's history at Independence National Historical Park. The building has grown to be the focal point for Franklin Court, Independence Hall, Bishop White, Congress Hall, Liberty Bell, and New Hall Military Museum.
The Philadelphia Museum of Art is the largest in the country. It has great collections of paintings and artistic works that would impress you. people also love to visit The Oval, Franklin Square, Shane Confectionery, Please Touch Museum, amongst many others.
Philadelphia is another top place with a tangible number of vegans. Every vegan loves Vedge, a famous restaurant in Philadelphia. It is known as "the holy grail of vegan restaurants." There are several reservations you can explore at Vedge to enjoy great taste and quality. You should try the avocado toast with tandoor eggplant, rutabaga fondue, and Korean seitan tacos.
8. Miami, Florida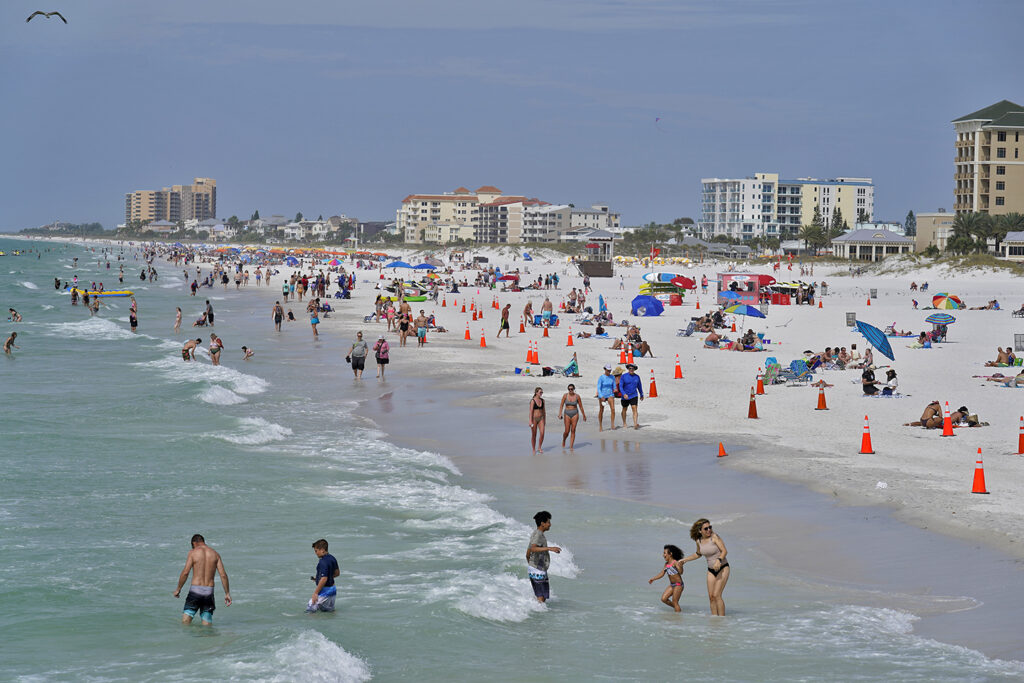 Couples love Miami for their honeymoon because it gives them a different level of exclusivity. Also, it is remarkable for families that are on vacation. It is one of the most visited places in the world. Well, the reason for this is not far-reaching.
Everyone knows Miami for its refreshing beaches. You can visit the Miami beach during the hot summer to cool off the day. You would notice some adorable buildings at Ocean Drive. You can visit the Art Deco Historic District or South Beach if you prefer other options than Miami beach.
Vizcaya Museum and Gardens is another impressive place to view the pools, fountains, and sculptures. You can also visit the Everglades National Park, Bayside Marketplace, Little Havana, Bayfront Park, Zoo Miami, and more options.
Miami is a great hospitable setting where you would easily access vegan foods. As a result, the city is growing to become the host to many vegetarians. You can meet up with celebs and explore new meals. You should check out Plant Food and Wine of Chef Mathew Kenney. It is one of the best culinary kitchens in town. Its restaurant is plant-based and a perfect place for vegans.
CONCLUSION; EVERY TRIP CAN BE MAXIMUM FUN
You can and should enjoy every trip in your lifetime. More especially, you deserve to catch all the fun in North America because there are many exciting moments there. From sightseeing structures to the lifestyles of its people, and their sumptuous delicacies, ensure you enjoy it all.
The goal is to always satisfy your cravings. Read more on how to enjoy your next visit to other places.