Detroit has so many great eateries and options to choose from. If you're vegan and visiting, this isn't even the tip of the iceberg for places that have excellent vegan and vegetarian options. So when you come to Motown, expect to be fed and full!
Detroit is most known for it is many things, whether it be Motor City, Motown, or the infamous Coney Island restaurants. It's a booming, multifaceted city that is constantly evolving, changing, and is very artistically inclined! While the food at Coney Islands is good, unfortunately, they don't have many vegan options and that can leave the folks who want that Detroit specialty feeling left out.
Luckily, Detroit has plenty of options, even a vegan Coney! While some vegan restaurants and options can be expensive, they don't always have to be. Detroit has plenty of restaurants with a variety of price ranges, but when you're spending a lot of money traveling on hotels and attractions, then it's always great to be able to spend less than you wanted or less than you planned. Who doesn't want to save some money, and still get a good meal?
We're going to lead you in the right direction. Here are some affordable vegan restaurants or restaurants with great vegan options in Motown and in other Metro Detroit areas.
Ima
Ima is all about "paying homage to healthy comfort food & hospitality." This is a Japanese-inspired restaurant that has a lot of noodle dishes like pho and ramen and other options like sandwiches and rice bowls. It is a Black-owned restaurant as well, so it's always great to support minority-owned businesses. It was named Detroit's restaurant of the year in 2019, so this place is definitely one of the best spots in Detroit. It has three locations in Michigan, two of which are in Detroit (Corktown and Midtown), and the other is in Madison Heights, MI. The different locations do have different options, so be sure to check out which location has what you want to try.
C.M.O – Chili Mustard Onion
C.M.O is known as, "The ORIGINAL Detroit Vegan Coney Island." This is a completely vegan restaurant with plant-based Coney Island staples like chili cheese fries, gyros, and loaded vegan burgers. Everything is vegan, including their condiments, and the prices are like any other Coney – cheap! Covid has changed the hours of the restaurant and rules are different in every state, so be sure to check about that before visiting. If you enjoy your food and want a memento of your visit, they have C.M.O stickers!
Pie-Sci
Pizza is a staple, but it has a lot of ingredients that are not vegan friendly most times. Not only that, vegan pizza can be quite expensive, especially when you start adding vegan cheeses and plant-based meat options. If you want pizza and with a fun, scientific twist, you should try Pie-Sci. The most expensive option for a large vegan pizza at Pie-Sci is about $20 and a small one is around $12.50. They also have vegan-gluten-free ice cream sandwiches you can grab with your pizza order for an extra treat!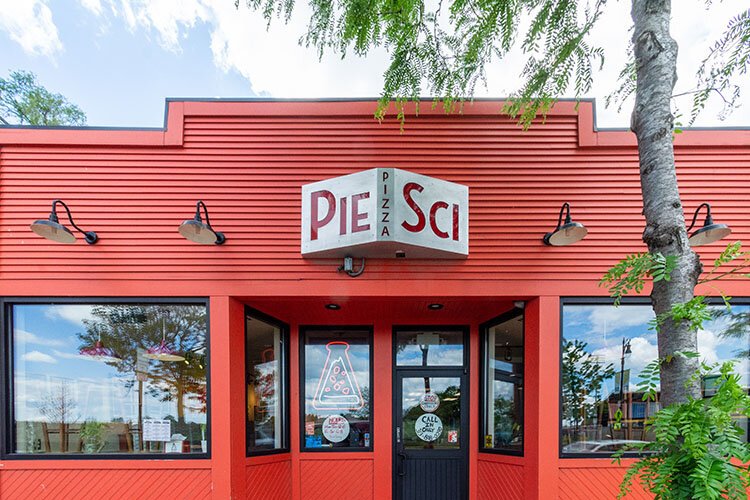 Seva – Detroit
Seva prides itself on having "fresh imaginative vegetarian cuisine," and is a vegetarian restaurant that has a lot of excellent vegan options. They also have a great selection of vegan and gluten-free drinks and wines to choose from. This is a kid-friendly restaurant, as it has a kid's menu to choose from with lots of vegan and gluten-free options. In the summer they have an excellent patio and bar that would be great to visit during the warmer months in Michigan. There are two locations for Seva, one being in Detroit and the other being in Ann Arbor (for any U of M fans, that would be a great option).
Trap Vegan
Another excellent Black-owned business, Trap Vegan is located in Detroit Michigan on Livernois which is a street famous for its fashion and quintessential Detroit eateries. One of the most famous restaurants that are popular among Detroit tourists is Kuzzo's Chicken and Waffles. Trap Vegan's owner said he birthed this restaurant too, "Stop in and give us a try we can guarantee you be will be "Trapped" and it will always be "Dope, Healthy, Good AF"! In the future, Trap Vegan will continue to bridge the gap between the vegan lifestyle and the culture." They have everything from smoothies to plentiful burgers and some good soulful desserts.
Spacecat V-stro
Another vegan and vegetarian comfort food option that's located in Ferndale, MI (off Woodward Ave in Detroit). They have brunch for the early birds and some great vegan mac and cheese options, yes options! On Monday and Tuesday, they are closed because they are making some great items from scratch. Unfortunately due to Covid, their hours are limited and they are only offering heated patio seating and carryout orders right now, so be sure to double-check their site or call ahead to make sure you're visiting during the right day/time.
Chickp Detroit
If you want something on the healthier side, try Chickp Detroit! They have plenty of shawarmas, salads, bowls, and other options for those who are vegan, gluten-free, or don't have special dietary restrictions. The menu items are very affordable, and they also have smoothies if you want to add something plentiful to your shawarma.
Harmony Garden Cafe
The Harmony Garden Cafe prides itself on, "Harmony Garden Cafe is Detroit's Location for Fresh, Delicious, Affordable Middle Eastern Cuisine with a Twist." This place has a lot of vegan and vegetarian options, as well as options for those who don't follow those diets. They have great falafel and Mujjaddara on the vegan portion of their menu. When you're all wrapped up with dinner or lunch, they have a variety of vegan desserts to choose from like rice pudding and even cheesecake! Vegan cheesecake is rare and delicious, so we strongly suggest this one for a nice twist during your visit.
Unburger Grill
This vegan restaurant in Dearborn, MI (which neighbors Detroit) is a vegan burger restaurant that offers much more than your average black bean burger! They also offer soup and salad, and all their condiments are vegan as well! They also have brunch options that are amazing, like their chicken and waffle sandwich, or their staple Unburger Sausage if you'd like to add that to your meal. What makes this place extra special is that they have vegan seafood options, like their Tuna-less Fish burger. For all the people who used to love seafood, this might be a great place to start if you miss that or if you want something nice, easy, and flavorful.
Street Beet
Though the menu may not appear that way, this restaurant is 100% vegan! This restaurant has everything from food to its own merch. They have amazing appetizers like their vegan Kool Ranch fries, and they even have a Nashville, TN staple – Hot Fake Chicken! If you want a quick snack, Street Beet has vegan jerky options you can choose from too. If you want vegan American food, this is a great option!
Detroit has so many great eateries and options to choose from. If you're vegan and visiting, this isn't even the tip of the iceberg for places that have excellent vegan and vegetarian options. So when you come to Motown, expect to be fed and full! If you're looking for other cities with great vegan options, check out our 8 Best Places for Vegans to Travel in North America blog.