Tourists often raise concerns about safety while traveling to Roatan. One of the most frequently asked questions about this island in Honduras is, "is Roatan safe?" Well, the short answer is yes. Want us to break it down for you? Read ahead to know how to safely travel to this stunning holiday destination.
About Roatan
Roatan is a Caribbean island located on the northern coast of Honduras, surrounded by Utila and Guanaja. The island is known as the second-largest coral barrier reef and situated 30 miles from the north coast of Honduras. This makes the location a massive attraction to tourists.
As the largest Mesoamerican Barrier Reef, the island is also the most populous of the bay islands. The annual temperature ranging from 80° F to 90° F, the island provides a warm tropical climate throughout the year. It is a wonderful place to live.
If you are looking for a perfect cruise destination, Roatan welcomes you with open arms. The island has two cruise ship ports and is now world-famous for cruising. With more cruise ships coming every year, the island is rapidly developing and has terrific hotels and resorts.
Moreover, the coral reef is home to many fishes, and the water is warm around the year, making it ideal for scuba diving as well.
If you are worried about not speaking Spanish, you would be happy to know that the island is always full of tourists and is home to both English and Spanish speaking natives.
Is it Safe to Live in Roatan?
As a Central American country, it is often assumed that Honduras is not a safe place to live. While the overall crime rate in Honduras has reduced over the past few years, Roatan is wide apart from the mainland Honduras and is considered safer. However, no separate crime statistics exist for the island.
With a population of about 100,0000 and approximately 1.6 million tourists traveling each year, there has been no significant gun violence or gang activity that exists on the island. In fact, unlike the US and other developed countries, gun culture is entirely absent.
The beautiful island of Roatan is always bombarded with the safety question. Strong evidence suggests that yes, it is safe to live in Roatan. Except for the few small crimes like theft, there is nothing more that you have to be concerned about while living in Roatan. If you consider Roatan unsafe for crimes like theft, then we must say every place is dangerous, and you are safe nowhere!
Being far apart from the mainland, Roatan has its own culture and economy. The economy in recent years is mostly dependent on the tourist industry. If you travel from mainland Honduras to Roatan, you will get to see the difference yourself!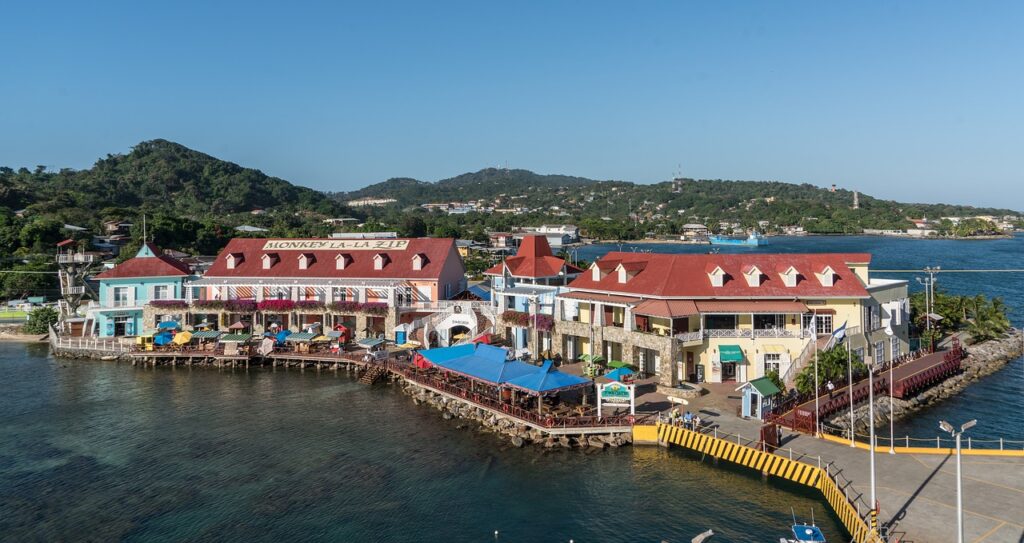 Is it Safe to Travel to Roatan?
When looking for the answers to your safety concerns about Roatan, you probably have searched for the crime rates in Honduras. Well, it seems scary as Honduras has one of the highest per capita murder rate. However, the majority of crime is related to drugs and gangs.
But we can assure you that Roatan is Safe. How? Well, geographically and culturally, Roatan is widely separated from mainland Honduras. Does this mean crime is utterly absent in Roatan? No, no tourist place is crime-free.
The crimes in Roatan are mostly petty theft. Losing wallets, money, or small cameras, jewelry being stolen are among the most common incidents. In simple language, if you are inattentive to your belongings, you become an easy target for thieves. Other crimes include crime against property like shoplifting, burglary, motor vehicle theft, and vandalism.
These crimes are mostly done by the poor folks of the island who don't have other means of income or need cash. We are not saying this to justify the crimes but to help you understand it. Believe us when we say that Roatan's natives are friendly, helpful, and just as wonderful people as the island.
If you are still skeptical about the safety question, you would be glad to know that the local government and the police are well aware of the importance of tourism in the island's economy and try to help the tourists at their best.
Safety Tips
While traveling abroad, being smart and cautious all the time is necessary no matter wherever you travel. Being located in the murder capital of the world, you might ask what safety measures you should follow while traveling to Roatan. We are here to assure you that traveling to Roatan is no different than traveling to anywhere in the world. Nevertheless, here are some safety tips that you might want to follow as a precaution.
It is better not to wear any expensive jewelry if you decide to wander around the streets at night.
It's not wise to carry a lot of cash.
Try to have your passport with you always but make sure you have a photocopy in your room.
Travel light, and it's better not to carry excessive baggage.
Avoid unfamiliar places at night.
Speaking Spanish can be a plus point.
If you carry a debit or credit card, make sure you have more than one, each with limited funds.
You can ask your resort/hotel for an electronic door look system.
Make sure your door, luggage, and other necessary things are locked while you leave the room.
Conclusion
Is Roatan Safe? Yes, with proper safety measures, you can enjoy your time at this incredibly beautiful Caribbean Island without any trouble. Does it make the list for the best vegan places in the World in 2021? Not quite. But it is still incredible!
It allows you to enjoy the wonderful beaches, scuba diving, cruising, warm tropical climate, and a mix of English-Spanish culture. Don't let the negative stories of the media decide for you. Instead, give it a try. It will surely amaze you!